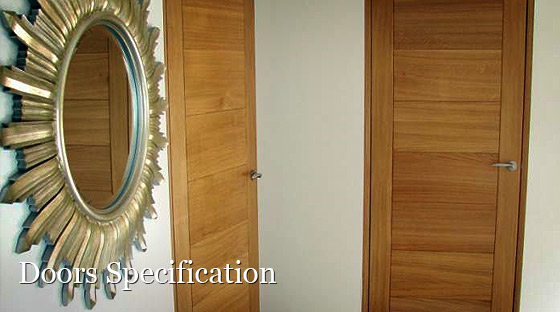 An individually designed solid Oak door is the perfect way to finish off your house.
We produce handcrafted solid Oak doors, from traditional panelled front doors to either more contemporary designs including sliding/folding doors. Our Oak doors are made to measure and can be either copies of existing styles or a one-off to suit your requirements. We use traditional methods- strong secure kiln dried European Oak, hand-cut in specialist workshops using time-honoured techniques. Each door is crafted with care and attention to detail.
Exterior Doors
Exterior oak doors are made to the highest of standards to achieve a door of the upmost in quality and durability. They can be supplied with or without a frame. Our doors are heavy 60 mm thick.
Classically styled with distinctive mouldings that create the appearance and feel of traditional entrance doors.
Internal Doors
Our standard interior oak doors are framed ledged and braced doors. We can supply you with individually designed oak doors, or a set of doors to enhance your home. Oak doors can be supplied with or without frames and can be finished with a variety of oils and stains
French Doors
Our internal or external Oak French doors are individually made by our craftsmen to a style to suit your home. Glazed exterior doors can provide an elegant and practical entrance to your home. All oak doors are manufactured to meet current building regulations French Doorsets (or French Windows) offer traditional elegant sightlines while incorporating double glazing, weather sealing and a selection of slender glazing bar options. The doors are supplied factory hung with Stainless Steel modern adjustable hinges.
Folding Doors
The folding, sliding Oak doors start from a two-door up to the maximum sixteen panels. Available with outward or inward opening our bespoke Oak bi- folding doors achieve a stunning effect, truly allowing the outside into the living space. Kolbon Oak carpentry fording doors promise unprecedented insulation against noise & temperature variation. One moment the doors are acting as an effective, secure barrier from rain, wind, noise, the next they're effortlessly moved aside to reveal wide, open space.
We use Hafele Centor E3 folding system. The system is top hung on highly engineered trolley hangers, require all the panels to be an equal size and can be up to 1000mm wide and 3000mm high. A system called Sure-lockTM on the pivots and carriers allows the door panels to be lifted or lowered very simply. There are no lock nuts which could come undone or spanners to lose. If the house settles over time, the panels can be easily adjusted without any fuss.
Our Oak bi-fold doors are fitted with Safe Double glazed units which argon filled as standard and achieve a minimum 1.1w/m2k U value which surpasses the requirements of current Part L Building Regulations.